KREATIV BLOGGER AWARD
Knit Nana
was kind enough to give me this award.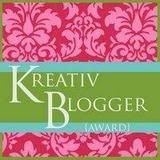 The official rules are as follows:
1. Copy the award to your site
2. Link to the person from whom you received the award
3. Nominate 7 other bloggers
4. Link to those on your blog
5. Leave a message on the blogs you nominated.
Ok. This is going to be very difficult to limit this to just seven! I mean just look at all the many knitting and miscellaneous blogs on my links!! So, really I can't just narrow it down to just seven. You'll just need to hop on over to all of them and enjoy the many blogs I have listed:~D
With love,
Lana